【札幌市】練習・制作会場使用料補助のご案内 / Sapporo City's Financial Support for Artistic Practice & Training Sessions
News 2022年8月20日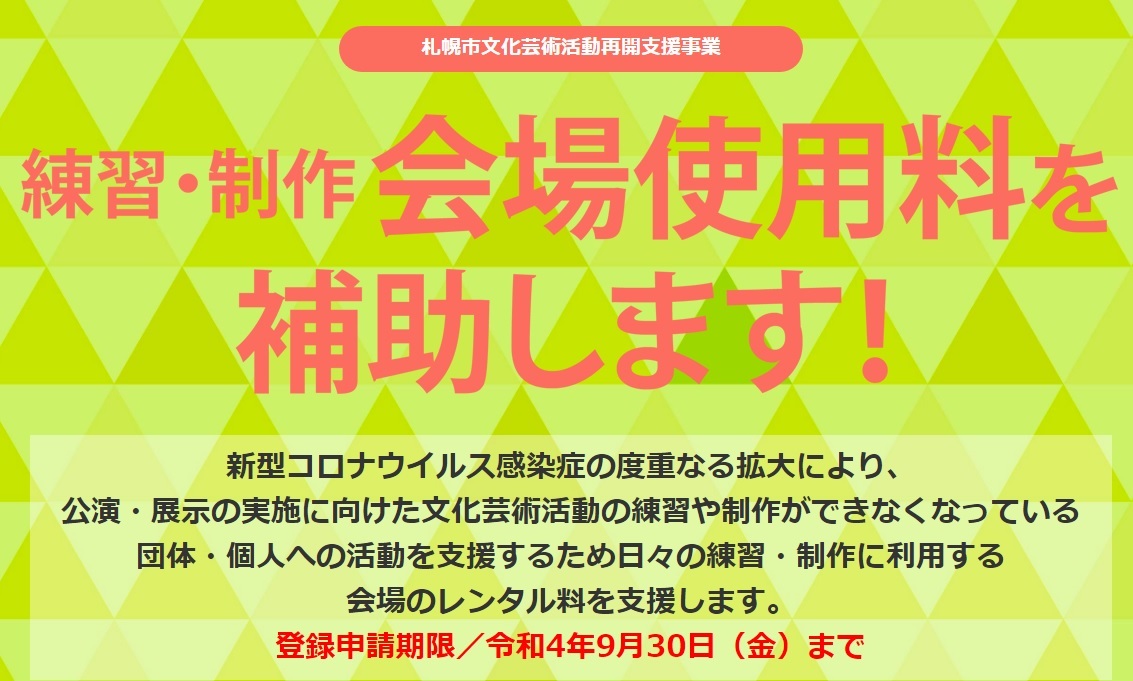 *English follows Japanese
札幌市が団体・個人への活動を支援するため日々の練習・制作に利用する 会場のレンタル料支援を行っています。
以下のリンク先から登録、交付申請を行うことで最大2万円の補助(半額助成)がを受けることができます。
https://bunka-saikai-sapporo.jp/training/
【対象者】
札幌市内に住所を有する個人、または代表者が札幌市内に住所を有する、札幌市内を活動拠点とする団体
①公的証明書に記載の住所が札幌市に限る(公的証明書が変更前の場合、住民票の写し等を添付)
②以下に該当する者
(A)平成29年10月16日以降に不特定多数の観客を対象とした実績がある者
※(A)に該当しない場合、(B)~(C)のいずれかに該当する場合も登録可能
(B)令和2年2月20日以降、公演・展示の活動機会を失った者
(C)既に、不特定多数の観客を対象とした公演・展示の予約をしている者
※(A)~(C)に該当しない場合、別途審査の対象とする
(D)将来的に不特定多数の観客を対象とした公演・展示を行う意思のある者
※プロ・アマは問わず
※18歳未満の申請は不可(保護者または18歳以上の方が申請)
※札幌市文化芸術活動再開支援事業のリハーサルとの重複申請は不可
【対象となる練習・制作】
□練習・・音楽、舞踊、演劇、古典芸能、園芸、その他の芸術、芸能
□制作・・絵画、工芸、彫刻、版画、陶芸、書道、写真、その他の芸術
【対象期間】
2022.4/1 ~2023.3/15 に実施されたもの
☆申請方法
メールでの申請が可能です。
☆問い合わせ先
札幌市文化芸術活動再開支援事務局
TEL. 011-788-6868 (受付10:00〜17:30) 土・日・祝休業
天神山アートスタジオ、滞在&交流スタジオも対象施設となっております。
小林
——
The City of Sapporo is providing an official support for daily artmaking and artistic practice sessions for both individuals and groups. Register and submit your application here for the possible financial support (20,000 yen at max). Residents and prospective residents at Tenjiynama Art Studio's Studio Apartment programs or Multi-purpose Studio program can apply for the support. Here're the application details;
[Eligibility]
The applicant/s must be either the individual with residential address in Sapporo or the group whose representative either has one's residential address in Sapporo or works based in Sapporo. 
*1. The applicant/s' respective residential address must be proven on a official certificate. If no official certificate can prove your residential status in Sapporo, please attach a copy of the certificate of residence.
*2. The applicant/s must: (A) maintain one's record of performance for large numbers of the general public later than Oct. 16th, H29. If not, those meet either (B) or (C) can also be appliable; (B) Those who lost oppportunity of performance or exhibition after Feb. 20th, R2. (C) Those who have already made reservation/s for performance or exhibition for large numbers of the general public. If the applicant/s might meet neither B nor C, the city will conduct the examination based on different criteria. The criteria (D) can be:  those who are committed to conduct performances or exhibitions for large numbers of the general public in the future.
*Applicant/s' practice status (professional/amateur) will be out of consideration in the examination.
*Application by those who are younger than 18 will not be valid.
*Application will not be valid if it's submitted to both this program and the city's support project for reopening one's cultural/arts activities (precisely, 札幌市文化芸術活動再開支援事業). 
[Field of Practice]
for practice session/training: music, Butoh, theater, classical performing arts, gardening, and other kinds of arts and performances
for artistic practice: painting, crafts, sculpture, printing, pottery, calligraphy, photography, and other kinds of arts
[Period of Conduct]
The artistic parsuits that meet the aforementioned items AND are conducted somewhere between April 1st, 2022 – March 15th, 2023 ONLY can be supported. 
[How to Apply]
Application via email will be valid.
[For Further Information]
Contact 札幌市文化芸術活動再開支援事務局;
phone: 011-788-6868 (10:00-17:30)  *Closed on Sat, Sun, and National Holidays