Studio Apartments
Current Status of Users Step to a Successful Application Persons Eligible to Use the Studio Apartments Studio Apartments Availability Available hours and charges Using the studios Applications Available Spaces Amenities and accessories
The studios are used by Sapporo City to support medium to long-term stays in Sapporo and Hokkaido.
They are located approximately 30 minutes from the center of Sapporo via Sapporo Municipal Subway and a short walk. A quiet environment within Tenjinyama Park has been ensured and the park scenery can be seen from all studios.

Available to: anybody involved in the field of culture or arts, including artists and researchers, aged 18 or older and who carries out creative activities, covering a broad range of fields (fine art, music, crafts, drama, dance, literature, photography, film, design, etc.); people are welcome from both Japan and overseas, irrespective of whether they are professionals or amateurs
* Screening may be carried out to check that the applicant satisfies the eligibility requirements.
The center can be used 24 hours a day as a base for residential production and research activities, etc.
Basic living products, tools, rental cycles and internet facilities are available.
The languages for communicating with staff are Japanese and English.
Accepted artist's family or a group is possible to stay.

However, it is limited to those who need assistance in daily living, are raising children, or have other special circumstances that are necessary for the artist's activities.
———-
◎ For the residency studios
Since July10, 2020, our residency studios are partially open.
◇ For the local artists from Sapporo, or from Hokkaido – Since July 10, 2020
◇ For the artists based in Japan (outside of Hokkaido) – Since August 1, 2020
◇ For artists abroad – *From May 29, 2022, We are completely OPEN!!
◎ Notes
※We might have to close temporarily depending on our circumstances again later on. It would be good if you could get in touch with us directly via e-mails or so for our recent updates.
※There are some countries, from where are still not allowed to enter to Japan.
※Currently (dated on May 29, 2022), people from abroad are allowed to enter to Japan except with tourist visas.
※Please contact us first if you are interested in applying for the residency studios from abroad.
◎ For the changes with the available numbers in residence. ※Since April 2022 the restriction on the available numbers in residency has been lifted up under the cancellation of a quasi-state of emergency. We are able to welcome as usual as before in numbers.
On Capacity
In order to secure a safe distance among all studio users, we are occasianally limiting the number of Studio Apartment residents. Currently there is no change in the numbers of those share one studio from the original operation (April 15th, 2022 -).
Studio A –> 1 resident
Studio B –> 3 residents
Studio C –> 4 residents
NOTE: For purposes involving louder utterance, it is required to reduce the capacity into half of the original operation.
Code of Conduct
Before Check-In
・Take temperature everyday from a week prior to your check-in.
 *We ask you to either cancel your stay or alter the schedule if you have a fever or symptoms of COVID-19. Please contact us over your condition if it seems alarming.
Check-In
・Sign-up will be conducted outside of the office for less density in the room.
・Verify your emergency contact.
During Your Stay
・Take temperature every morning and night. Studio users are encouraged to bring one's own thermometer.
・Wear a mask in public areas.
・Practice coughing manners.
・Sanitize your hands and gargle.
・Practice social distancing in shared spaces (ex. kitchen, laundry room, smoking room) and avoid crowded hours.
Sanitization and ventilation
We set studio apartments unavailable from incoming residents for at least 24 hours after a check-out. During the resident-free hours, sanitization of equipment and air ventilation of the room will be conducted. Given this, all incoming stays will be scheduled at least a day away from the last check-out of the room.
Thank you for your cooperation!
Current Status of Users
Step to a Successful Application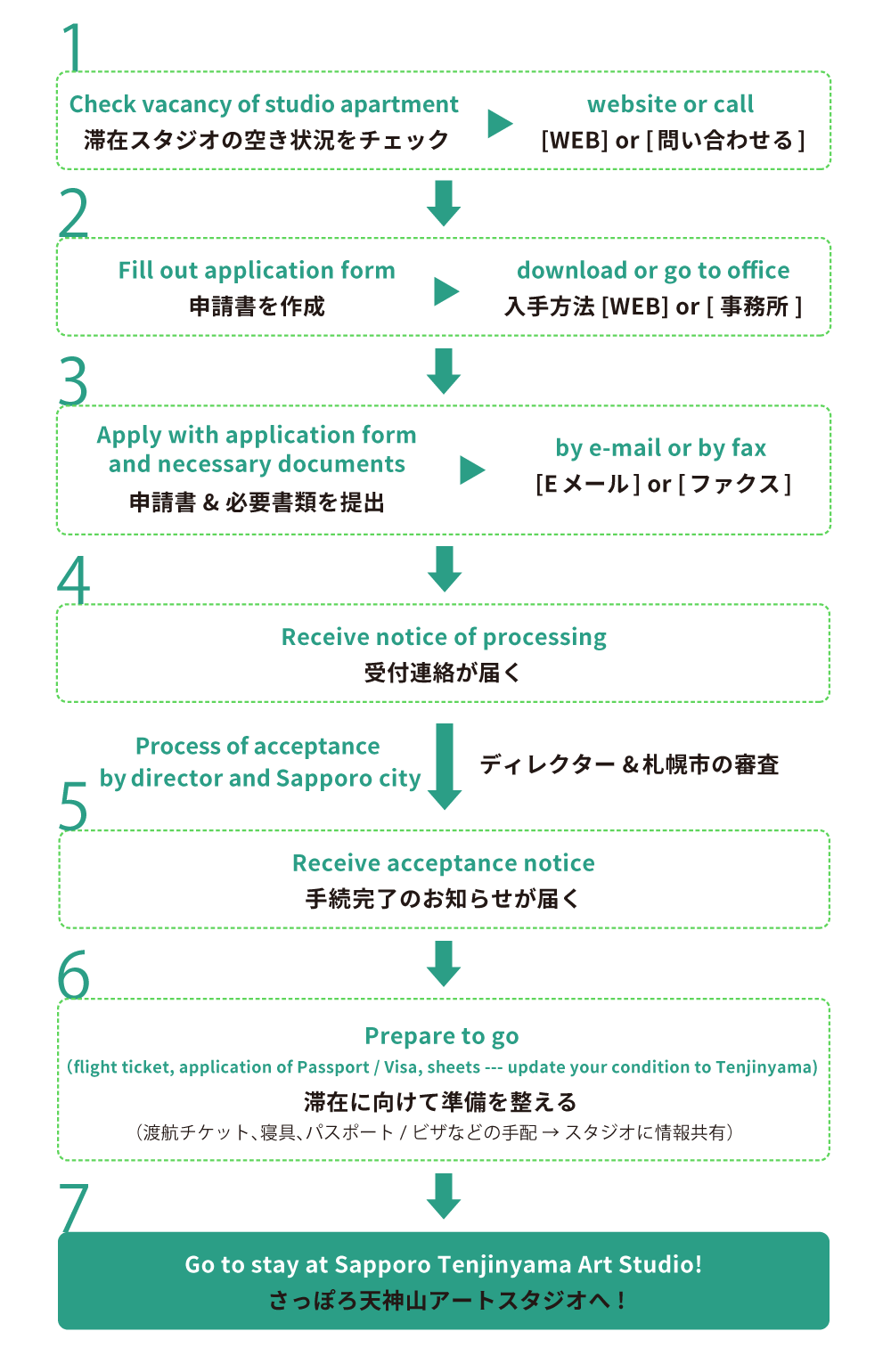 Persons Eligible to Use the Studio Apartments
Only people who satisfy all of the following conditions are eligible to use the Studio Apartments:
People carrying out cultural or artistic activities
People whose aim is to carry out the production of artwork or related research, etc.
People whose activities are deemed to be appropriate at the Studio Apartments
Studio Apartments Availability 
The information may not be up to date. Please contact us by email.
Available hours and charges
Table of time slots and charges for the Studio Apartment (per room)
Studio
Time slots
Charge
1-7 days
8-14 days
15 days or more
A(19㎡)
Day 1 (11:00 to 10:00 the following day) * 11:00 to 11:00 the following day when used on consecutive days.
770 yen per day
530 yen per day
390 yen per day
B(53㎡)
2,130 yen per day
1,460 yen per day
1,070 yen per day
C(73㎡)
2,930 yen per day
2,010 yen per day
1,470 yen per day
As a general rule, the maximum consecutive stay available at the Studio Apartments is 90 days.
Charges are made for each full time slot even if the Studio Apartment has not been used for the full time slot.
Additional charges are made to cover heating from October to April. This charge may change depending on the fiscal year.(General guide: the daily heating charges in Fiscal Year 2023 were as follows: Type A – 150 yen; Type B – 430 yen; Type C – 590 yen) 
Other charges are sometimes made when you have used fittings, electronic apparatus, or mechanical equipment.
Using the studios
Please read the following before making an application.
The facility is closed every Monday, so applications cannot be processed (started or completed) on a Monday.
There are time when users of the Studio Apartments are asked to take part in cultural exchanges or other events with the general public.
Your cooperation is appreciated with keeping open the doors to Studio Apartments when it is convenient for you, for example during times when it would not interfere with your work, to allow smooth exchange with other users of the Studio Apartments.
Applications
Application period
Applications can be made at least three business days and up to twelve months in advance of the date of use (excluding weekends, national holidays, the year-end/New Year holidays, and days when the facility is closed).
* Residents of the Studio Apartments who wish to use a multipurpose studio may make a special application up to twelve months in advance because the studio will be used during the same period.
How to Apply
1. Please check the availability of the studios at the calendar above. * Studio availability information may not be up-to-date. Your understanding is appreciated. Please confirm the latest information by e-mail or phone call.
2. Please download a Studio Apartment Application form and fill in the required fields. Alternatively, applications forms are available at the Sapporo Tenjin-yama Art Studio office.
 
 Studio Apartment Application (Word file)
 Studio Apartment Application (PDF file)
3. In addition to a Studio Apartment application form, please also prepare the following documentation: (1) Your portfolio (or provide a website URL below that includes the details); (2) Something that explains your activities to us, such as your profile, a history of your activities, or a few photographs of your work; (3) One copy of your identification (such as a passport, driving license, or something with your current address on it, such as health insurance card). * All of these documents will be used for screening, as well as for the AIR archives of Sapporo Tenjin-yama Art Studio. (4) Please submit the application form in one of the following ways:
※Please make sure to check the expiration date of your passport when applying.
Hand it in to the Sapporo Tenjin-yama Art Studio office (open from 8.45 to 21:00 on days when the facility is open).
Email info@tenjinyamastudio.jp
FAX +81-11-820-2142
* Applications are not accepted by telephone. * Please make sure you use the correct FAX number. * We may get in touch to confirm any missing or unclear information. * If you have not heard back from us three days after submitting an application, please contact us via email or telephone.
How to Pay
Please pay the usage charges in cash at the office, on the day of use.
You may pay in full, or monthly by the end of each month starting from the day of use.
How to Cancel
Please contact us at least five days prior to use if you wish to cancel. Cancellations made less than five days before the scheduled booking will incur the full cost of the booking.
Please cancel via email, FAX or telephone.
Available Spaces
Studio Apartment – Type A
This is the perfect compact size for working with a computer, or as a base for carrying out research. Only one person may use the room.
Number of rooms: 6, approximately 19.0 m2/ equivalent to an apartment with one bedroom and a kitchen
Studio Apartment – Type B
This is a maisonette-type studio. It is divided into a working space with PVC tile flooring and one with carpets, providing two working spaces. It can be used by between one and three people. Number of rooms: 6, approximately 53.0 m2/ equivalent to an apartment with two bedrooms, one dining room and one kitchen.
Studio Apartment – Type C
This studio is a duplex and two different working spaces are available: one is situated in the kitchen with pastic flooring, the second space is carpeted and situated on the first floor. Studio C allows up to a group of four to work together. Number of rooms: 1, approximately 73.0 m2/ equivalent to an apartment with three bedrooms, one dining room and one kitchen.
Amenities and accessories
Smoking is prohibited everywhere except the smoking room.
Each Studio Apartment has a kitchenette, a fridge, a bath, and a toilet.
You can also use the communal kitchen on the ground floor and the communal laundry room on the second floor.
You can use the free WIFI.
The building is closed to the public every Monday, but all facilities are open to residents during their stay.
You can enter via the staff entrance when the public entrance is closed during the night.
* Pillows, sheets and bedding, as well as washing items, such as bath towels, are not available. Please bring these yourself. * Food and cleaning services are not provided. Please supply food and carry out cleaning yourself. (Please put things back the way they were after use.) * Only basic tools, equipment and materials are provided. Please bring any specialist equipment and materials you need. Please ask us in advance about any other facilities or amenities related to your production activities.